In this post, I will go over the steps on how to change your OPNsense GUI theme.
➡️If you think this tutorial is helpful, please support my channel by subscribing to my YouTube channel or by using the Amazon/eBay/ClouDNS Affiliated links below (Full Disclaimer). I will get a small commission from your purchase to grow my channel:
🚀 ClouDNS Affiliated: https://www.cloudns.net/aff/id/255803/
🚀 Things I used for my server: https://amzn.to/3hudohP
🚀 Tools I used: https://amzn.to/3uXaSUr
🚀 Devices I used: https://amzn.to/3FYlfxk
🚀 Networking/Cybersecurity/Programming Books: https://amzn.to/3HEYwb0
🚀 TrueNAS HBA SAS controller IT Mode from the Art of Server: https://ebay.us/cBWEvJ
🧧 PayPal Donation: https://www.paypal.com/paypalme/sysadmin102
If you don't like reading posts like I do, you can follow along on my Youtube Channel. Below is the video:
Step 1: Install the themes from Plugins
Navigate to System > Firmware > Plugins
Search for "theme"
Select the plus sign + to install the theme from the search list.
Repeat until you install all the themes or whichever theme you would like to use.
Below are the samples of what these theme color look like: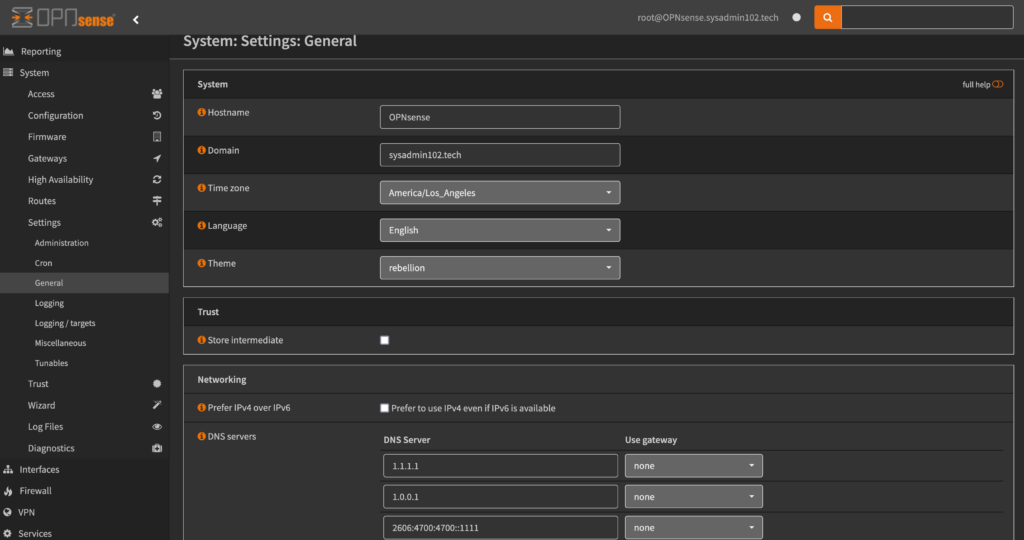 Step 2: Apply the new theme
Navigate to System > Settings > General
Select the desire theme
Save
If you think this tutorial is helpful, please subscribe to my YouTube channel for more tutorials: https://www.youtube.com/@sysadmin102